Product Description
2014-2018 Silverado 2 Piece Conversion Driveshaft With Crossmember Kit
Select a vehicle height and transmission before ordering!
PLEASE LOOK AT OUR COMPARISON PICTURE OF THE 6 SPEED AND 8 SPEED TRANSMISSION YOKES
CONFIRM YOUR TRANSMISSION IS EITHER A 6L80E OR 8L90E! (also, see below)
This is a high horsepower, performance shaft that comes with a chromoly, billet slip yoke
THIS SHAFT HANDLES UP TO 800 H/P!!!
(See pictures to view yoke)

This is a complete two piece drive shaft kit
(Please call us before ordering if your vehicle did not come stock with a one piece Aluminum driveshaft- This kit is for Crew Cab/ Short Bed Trucks or the double cab 6' beds)
This will eliminate the big aluminum Drive Shaft that will hit when the truck is lowered
This kit will also help with the drive shaft critical speed
This kit comes with a Brand new Complete drive shaft - Has transmission yoke
This kit comes with
Complete two piece drive shaft with carrier bearing

Fully balanced drive shaft

New universal joints
This is not a direct bolt in, you will have to drill holes and mount the cross member to the frame (see pictures)
This kit is designed to fit the 1500 model with 4 full doors and short bed or the double cab 6' bed
143.5" wheel base models
This kit is desgined to eleminate the aluminum shaft that is too big and hits the body and cuts into two pieces, however it is not a direct bolt in kit there is drilling to the frame to mount the cross member and might have to shim the differential pinion angle to match the drive shaft angles
AGAIN, PLEASE CONFIRM IF YOU HAVE A 6 SPEED OR AN 8 SPEED TRANSMISSION
2014 AND UP SILVERADO 1500 TRUCKS CAN COME WITH EITHER
WE ARE NOT RESPONSIBLE FOR SHIPPING CHARGES IF THE WRONG SHAFT IS ORDERED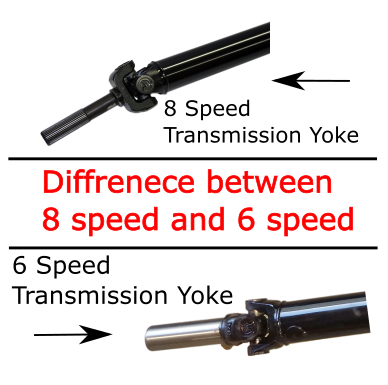 Any questions you can call (661) 633-2303
Product Videos
Custom Field
Product Reviews